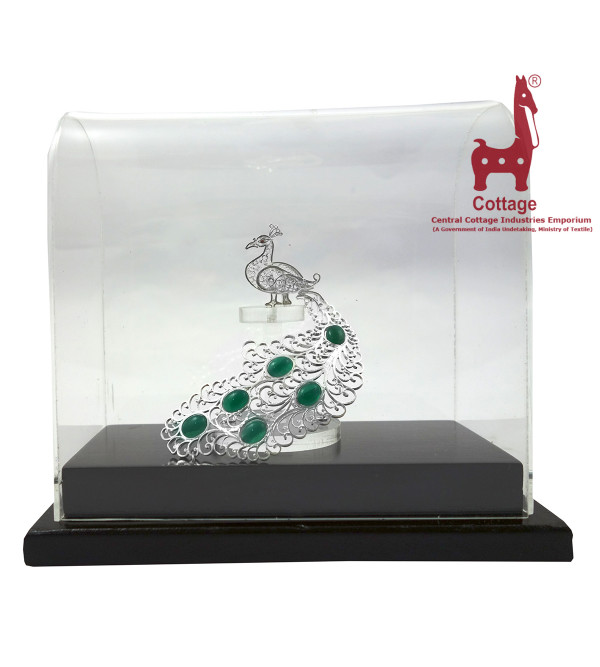 ₹ 6,144.00 Ex Tax: ₹ 6,144.00
SILVER FILGIRI RAJ PEACOCK 6X7 INCH Karimnagar Silver Filigree received Intellectual property rights protection or Geographical Indication (GI) status in 2007..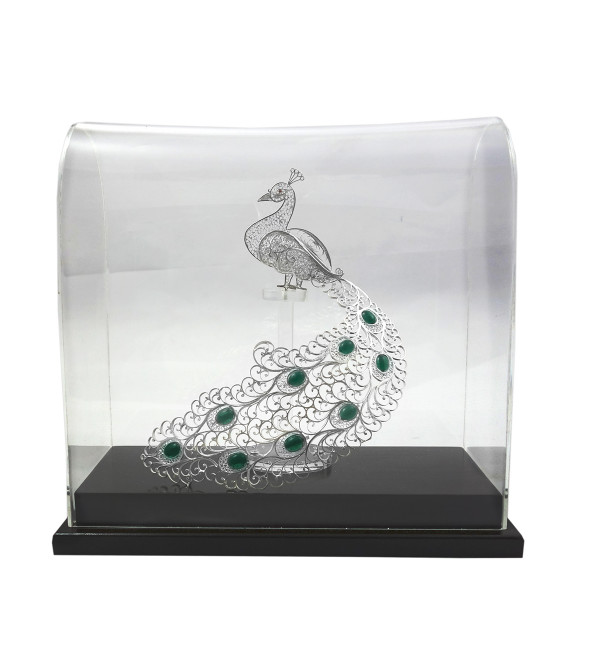 ₹ 13,767.00 Ex Tax: ₹ 13,767.00
SILVER FILGIRI RAJ PEACOCK 9X9 INCH Karimnagar Silver Filigree received Intellectual property rights protection or Geographical Indication (GI) status in 2007..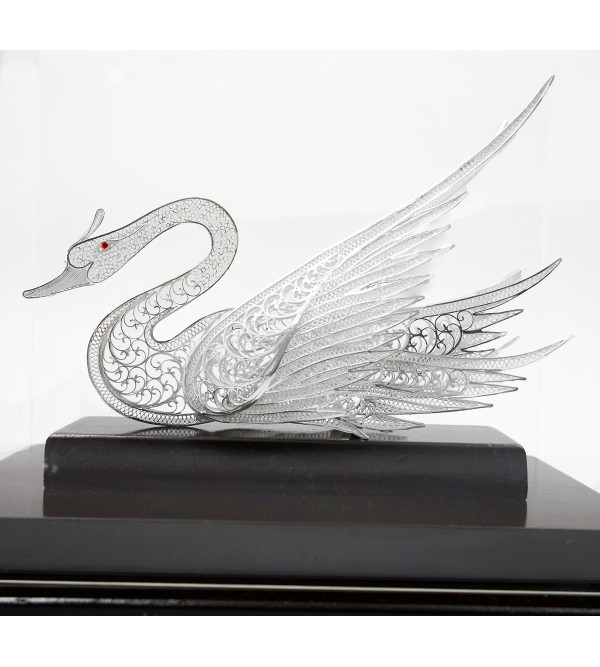 ₹ 13,493.00 Ex Tax: ₹ 13,493.00
SILVER FILIGIRI SWAN 9X9 INCH Karimnagar Silver Filigree received Intellectual property rights protection or Geographical Indication (GI) status in 2007..
Showing 1 to 3 of 3 (1 Pages)
Telangana(GI)
GI Certified Products
GI represents a geological sign and is a sign utilized on items that have a particular topographical beginning and have characteristics or noticeable quality that are a direct result of that beginning. CCIC offers a category of GI-certified products. This category includes crafts from different states. We will be discussing Telangana GI certified products and handicraft products.
Telangana as a state is known for its rich repertoire of arts and Handicrafts of Telangana and is not an exaggeration to say that every district in the region. Furthermore, this region is home to different types of arts and handicrafts that are considered a rich and proud tradition of the state. Moreover, Telangana handicrafts solid presence for quite a long time in the market.
What makes Telangana handicrafts special?
Telangana handicrafts have something for each section of your house. For wall decoration, Telangana handicrafts offer paintings such as
Cheriyal Scroll Paintings, Batik Paintings, Nirmal Paintings. For table decor, one can find metalware and wooden crafts. For home linen, it includes handlooms such as Banjara Needlecrafts, Gadwal Handloom, etc.
Telangana Paintings- Wall Décor Idea
This innovative art form is in practice for quite a long time. In Telangana, you comprehend the genuine ability of the expert. These Telangana-crafted works highlight a wonderful mix of common shades. They are either painted on a piece of material, fabric, or paper. Look beneath to find out about Telangana Paintings.
Cherial Scroll Paintings
Based on the themes from Puranas and Epics, Cherial painting is wonderful craftsmanship executed on the Khadi Canvas. With a red tone as the foundation, the artistic expression utilizes common materials to address the district's way of life and way of life.
Batik Paintings
Loved by almost all the women of India, Batik is an ancient form of painting on the fabric. Showing a mix of dynamic tones, Batik is a wax-oppose color strategy performed long back in the locale of Medak. Examples of the material utilize hot wax to make an alluring piece.
Nirmal Paintings
With a touch of unique colorful style, the high-quality Nirmal paintings come from the fourteenth century. These artistic creations portray the scenes of the Hindu sagas, Ramayana, and Mahabharata. Individuals or the local area of craftsmen who live here are designated "Naqash". Nirmal artworks are one of a kind for delicate woman figures on a contrasting dark black backdrop.
Home Linen Of Telangana State
Telangana is a state blessed with the vibrancy of colors, metalware, and Nirmal artistic creations. Numerous districts of this state have countless skillful craftsmen and experts for textures and material.
Pochampalli Handlooms
Besides painting, Telegana crafts offer a vivid variety of high-quality handlooms, Pochampalli Handlooms artworks are one of them. Further, it offers famous eye-catching Ikkat designs, sarees, and dress materials. Moreover, Pochampalli & many villages in Yadadri-Bhuvanagiri define the traditional handloom crafts.
Gadwal Handlooms
The Gadwal handlooms offering traditional sarees are adorned with the Zari. Further, the focus point of the saree is Pallu that includes an attractive border. This woven art is a treat to the eyes. You will be surprised to know that some refined Gadwal sarees fit perfectly in the matchbox when they are folded down with delicacy.
Naryanapet Handlooms
Narayan pet handloom sarees are known for their rich borders, red and white bands, and intricate ethnic design. Furthermore, this kind of handloom comprises a unique interlocking technique with a fusion of the Maratha & Telangana style. Speaking about the manufacturing of Narayan pet handloom sarees, these are made in the Narayanpet region in the Mahabubnagar district of Telangana. Apart from wearing these are sarees, you can use them as wall decor or repurpose them as home linen due to their lightweight fabric.
Telangana handicrafts - for Table décor
Besides sarees and handlooms, Telegana is also known for its metalwork and its products. Well, it's not incorrect to say that its metalwork requires no introduction. Let's find out more about this section.
Dokra Metal Crafts
Dokra Metal Crafts is perfect for those who like to decorate their houses with items inspired by folk traditions. Dokra Metal crafts are produced by the artists of Adilabad District and each piece is a standout combination of metallurgical skills.
Silver Filigree
Filigree Silver Craft is another interesting and beautiful craft. Filigree is also known as Filigrann or Filigree and is a form of metalwork created into a piece of elegant jewellery. Furthermore, Filigree Silver Craft is made in either gold or silver and offers a unique style of twisted metal threads, tiny beads, or both. These are arranged in a zig-zag pattern. Items such as spoons, button boxes, perfume containers, etc are made in Silver Filigree.
People who are fond of Filigree Silver Craft can shop from CCIC. CCIC offers Filigree Silver Handcrafted Swan. This Filigree Silver Craft Artifact is 4x4 INCH and made from 92.5% Silver. Further, one should handle this with care and keep this product away from corrosive Liquids.
Bidri Crafts
This craft comes from the 14th century. This was the time when Bahamani Sultans were ruling. Moreover, this form offers boasts of an eight-staged process. In simple words, it is a craft that requires utmost patience to create artfully engraved silverware. Further, the products like hookah pots, cufflinks, jewelry boxes, etc. are also designed in Bidri Crafts.
Lacquerware
One of the superb methods where the woodenware is hard-pressed with the lac stick to form lacquer. The bangles adorned with pretty beads, stones and mirrors are the best examples of Lacquerware. Further, the town of Etikoppaka is famous for this craft.

CCIC is the perfect place to shop for Telegana products. People who are into online shopping can shop handmade items online at CCIC.